You've probably heard that Abba means "Daddy." It's an Aramaic word that Jesus used when he was praying, and we use it in prayer, too.
I understand that many preachers and teachers have taught about this. They say that it's a term of intimate connection between father and child.
It's true that Abba was a word children used for their father, but that's not the full truth. There's a missing piece here.
And the missing piece makes all the difference.
So, let me share with you the biblical context of Abba to provide that missing piece. As a result, I hope that you'll better understand—and use—the full meaning of this important prayer word.
Our first word of prayer
The first word we must learn to speak when we pray is "Father." This is the first word Jesus taught us to pray.
In the original Greek text—if you're more of a literalist like me—we find that Jesus actually fronts the word "Father" in Matthew 6:9, which is our model prayer as his disciples.
But even beyond grammatical construction of our prayer instructions, we must learn to pray "Father" because it is the most important word we utter when we talk to God. Unless we can say Father from our heart and mean it, the rest of our words don't mean anything of substance—not really:
If we don't learn to say Father…
Then, we don't know his authority.

Then, we make ourselves the ultimate authority of our own lives.

And we don't need to pray.

We'll have no truly intimate connection with God.
If we don't learn to say Father, then we can't really pray.
The "Our Father Prayer"
Jesus taught us how to pray in what's commonly called "The Lord's Prayer" in Matthew 6:9–13. While this title makes sense, no doubt, I prefer how some call it the "Our Father Prayer" (see more about this and read my translation of this prayer here, under the section called "Say the 'Our Father Prayer' together").
I like this better because Jesus intended it to be our prayer to the Father; it's not as much Jesus' prayer to the Father, as much as it is ours (although both work just fine).
A detail we must not miss
More importantly, though, I like calling it the "Our Father Prayer" because the word "Father" carries with it an important meaning for those in Christ. It reminds us whom we're praying to, and God's title in prayer is not something to gloss over.
We must first learn to pray Father, but it's not just saying the word that matters. It's what we mean when we say it.
Which leads me to the point of this article: identifying the real meaning of Abba, which is the Aramaic word for Father.
While I had studied this word before, it really hit home for me when I arrived in Israel in 2007 and heard the word with my own ears for the first time. It came from a Jewish father to his son, as they washed their hands at the sink.
The real meaning of Abba
When I landed at the Tel Aviv airport in June 2007, I had to use the restroom after a long delay: I had just been interrogated by the Israeli authorities—I'll spare you the details—for three hours upon landing in Israel for the first time. Let's just say I had to go.
Washing my hands in the restroom, I overheard an exchange between a Jewish father and his son. You should know that they both knew English and Hebrew. The father said to his son (in English), "When I ask you to do something, I want you to call me Abba."
Hearing this, I was surprised by three things:
That he was speaking in English and Hebrew in the same breath.
That he was using an everyday experience for child training (good for him!).
The real meaning of Abba is not what I had been taught.
Most people think Abba means "Daddy," but that's not quite right.
"Daddy" doesn't have the bite of Abba.
It's personal, which is part of the meaning, but that's not the whole story.
Abba doesn't mean "Daddy."

Abba doesn't mean "Dad."

Abba means "Father, I will obey you."
Most people think Abba simply means having an intimate relationship with your father, but there are actually two elements, not just one.
---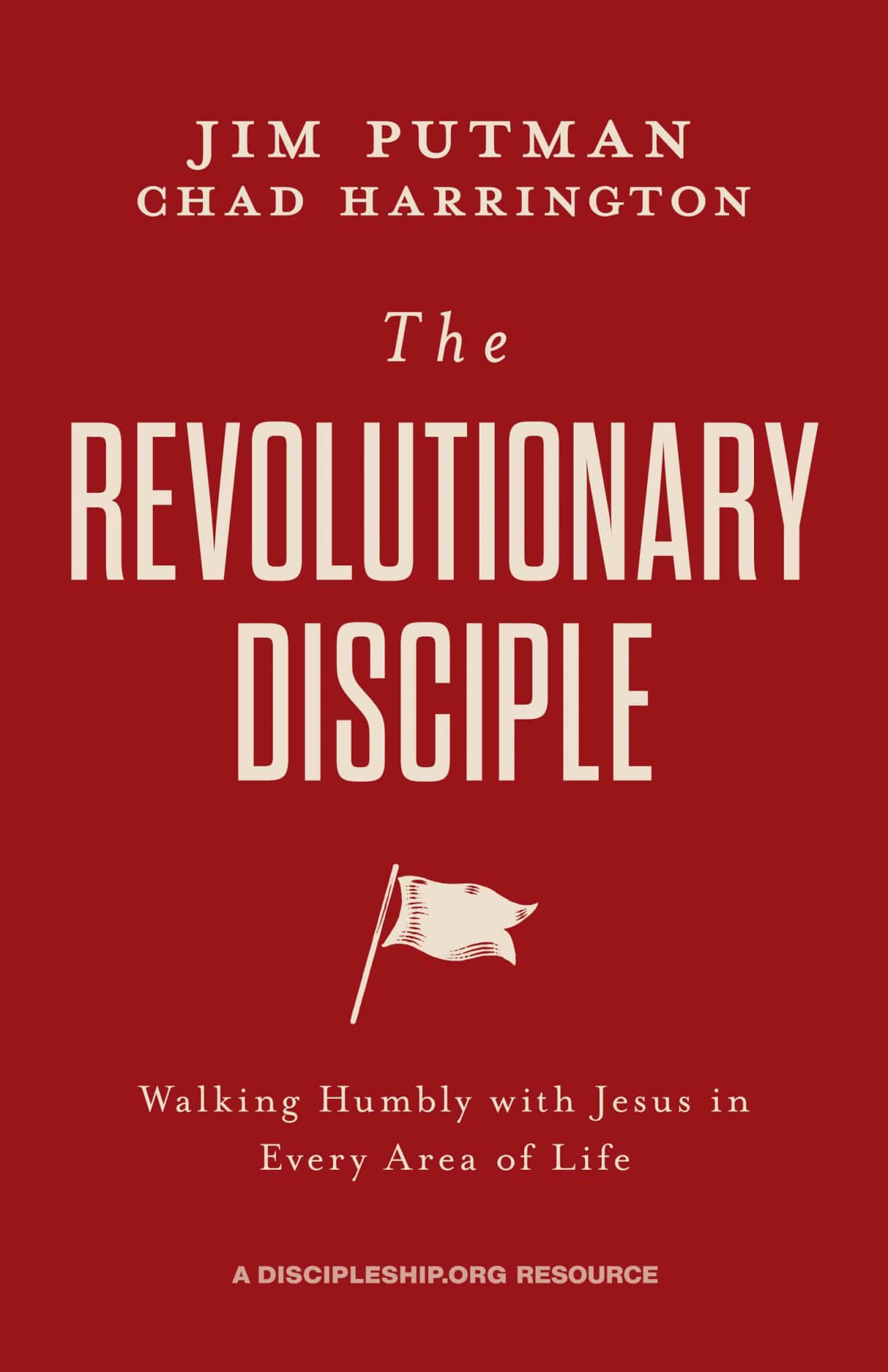 Jim Putman's The Revolutionary Disciple
Walking Humbly with Jesus in Every Area of Life
A comprehensive discipleship strategy for your home, work, and church. You'll benefit greatly from reading this book with your discipleship group or church staff.
— Robby Gallaty, pastor and author of Replicate
A long overdue call to us as leaders to humble ourselves before the Lord and the people we lead.
— Ed Litton, pastor and president of the Southern Baptist ConventionGet Product
---
The two elements of Abba
The two elements are:
Intimacy
Obedience
It's the obedience part that we miss with equating it to just "Daddy."
I don't gather this meaning simply from a personal experience in the Holy Land…
As I'll show you, this is how it's used in Scripture, too.
Back to real life
The Jewish father-and-son exchange I witnessed in Tel Aviv revealed both elements: The son was struggling to follow his father's instructions as they washed his hands together (he was a small boy, by the way!). As they spoke, you could tell they were close in relationship by the feel of trust they had. Yet the father was teaching his son to say Abba because it meant more than just closeness.
Abba for that dad primary meant authority that commands obedience. The close connection was just part and parcel for the obedience.
Abba is more like the English "Sir" than "Daddy."
---
Abba is not merely about intimacy; it's also about authority.
---
Abba is a term of endearment, intimacy, and close relationship, on the one hand.
And obedience on the other hand.
"Daddy" is an inadequate translation
It's both intimacy and obedience, so neither "Sir" nor "Daddy" are adequate translations.
The true meaning of Abba is "Father, I will obey you."
Both elements must be present:
Only a child can use it (intimacy)

Only an obedient child can use it (obedience)
It's not just a modern-day Jewish thing, though, as I mentioned. The meaning I'm promoting here is exactly what we see in the New Testament when the Aramaic word is transliterated into Greek as Abba. It is used only three times in the New Testament—Mark 14:36, Romans 8:15, and Galatians 4:6—and each of them reveal this meaning.
Let's look at the context of each of these passages, starting with Jesus' usage of Abba in the Garden of Gethsemani.
Abba means more…
Jesus uses Abba in prayer. Catch this: he uses it along with the regular Greek word for father, "pater." That is, he says, "Abba, Father." So, something is different about Abba, which Greek does not capture; that's why Jesus employs his first tongue here.
Abba is heart language.
But Abba is not just a feeling word, but also a discipleship word.
Jesus' use of "Abba"
Both elements are present in Mark's account of Jesus' passionate plea to God (Mark 14:35–36):
"Going a little farther, he fell to the ground and prayed that if possible the hour might pass from him. 'Abba, Father,' he said, 'everything is possible for you. Take this cup from me. Yet not what I will, but what you will'" (NIV, 1984).
Intimacy. Jesus is in a trying time in the Garden of Gethsemani, so he withdraws to be alone with God in prayer. This is an intimate experience with the Father.
An obedient heart. The substance of Jesus' prayer that begins with Abba expresses a willingness to obey.
Side note: Jesus surely prayed in Aramaic, and John Mark, as translator of Jesus' prayer in Mark 14, wanted to make sure that the reader understood the nuance of this Aramaic word.
Jesus was connecting intimately with the Father and also expressing his submission to God. That's why he prayed, "Abba."
This is what we see in Paul's usage, too.
Paul's use of "Abba"
Paul writes: "For you did not receive a spirit that makes you a slave again to fear, but you received the Spirit of sonship. And by him we cry, 'Abba, Father'" (Rom. 8:15).
First, notice the similarity with Jesus' prayer: The Aramaic term (Abba) followed by the Greek term (pater, Greek for "Father"). Paul uses Abba for a specific purpose, which is to express both intimacy and an obedient heart.
Intimacy. Notice what motivates this prayer: It's the "Spirit of sonship" which stands in opposition to "fear," we learn from this passage. That is, we have a close relationship with God, as close as Father to child.
An obedient heart. Yet, it's not just about the intimacy; it's also about the heart of obedience in the one who cries Abba. In the immediately preceding verses—Romans 8:12–13—we see that our cry of "Abba, Father" is an act of submission of our will:
"Therefore, brothers, we have an obligation—but it is not to the sinful nature, to live according to it. For if you live according to the sinful nature, you will die; but if by the Spirit you put to death the misdeeds of the body, you will live, because those who are led by the Spirit of God are sons of God. For you did not receive a spirit that makes you a slave again to fear, but you received the Spirit of sonship. And by him we cry, 'Abba, Father.'"
Paul's point here is not merely the intimacy of being God's child; it's that, but it's also embedded in an impetus—should I say an imperative—to obey, to "put to death the misdeeds of the body."
Notably, the context of Abba in Romans 8 is about obedience in suffering, just as it was in Mark 14.
Galatians 4:6 is the same song, second verse. Paul writes, "Because you are sons, God sent the Spirit of his Son into our hearts, the Spirit who calls out, 'Abba, Father.'"
We are again called children of God in this passage, like with Romans 8, but the context here suggests a contrast between obedient slaves and obedient sons (see Gal. 4:1–11 for more context).
And we are to be obedient children in this passage: "But now that you know God—or rather are known by God—how is it that you are turning back to those weak and miserable principles? Do you wish to be enslaved by them all over again?" (Gal. 4:9). We are heirs with responsibility—obedient to God, not to the rules of man.
Obedient children use "Abba" when they pray.
So, praying "Abba" means "Father, I will obey you."
The command of the Jewish father in Tel Aviv starts to make more sense at this point.
We've covered the only three usages of Abba in the New Testament, so you can walk away with confidence that this is indeed the biblical meaning of this important word of prayer.
But let me drive home the point further by looking at this concept in the Old Testament.
Isaac's use of … "Abba"?
The three New Testament usages I've described all connect to the patriarch Isaac and his relationship of obedience to Abraham:
He was facing impending suffering through sacrificial death like Jesus was (Mark 14)
He was a son of promise like we are (Rom. 8, Gal. 4)
This is so important: Isaac is in the same situation as Jesus and us. Plus, he serves as the prototype for all those who follow in his footsteps.
The story…
Isaac's carrying the bundle of wood, the flint, and the knife up Mt. Moriah with his father, Abraham. He doesn't use the Aramaic word Abba because he doesn't speak Aramaic. He's a Hebrew before Hebrews became Jews, who became Jewish exiles. The story comes to us in Hebrew, but when he says "Father," he means Abba, which is "Father, I will obey."
Even though he doesn't use the word, he elicits the meaning.
We hear nothing out of Isaac's mouth the whole time—that is, until he says, "Father!" (Gen. 22:7). He had made it all the way from the land of the Philistines to Mt. Moriah—a three-day journey—without questioning anything.
But he started to wonder: The fire and the wood are here, but where is the lamb for a burnt offering?
Abraham didn't really give him an answer (at least a clear answer), yet Isaac continued in good faith, intimate father-son connection (he continued up the mountain when the servants were left at the bottom of the mountain), and obedience to his father.
We know the posture of Isaac's heart was to obey because that's exactly what he does! He follows through with his father's apparently cockamamie plan to kill him. We know, of course, that Abraham was being obedient, too—which is probably how Isaac learned obedience. The plan, as it turns out, was not crazy but from God.
Isaac's "Father" on Mt. Moriah is the same "Abba, Father" that Jesus cried—also from Mt. Moriah (see 2 Chron. 3:1).
They were both questioning, in their own way, the plan of their father, yet because of their intimate, trusting relationship with their father, they were also both willing to obey.
Intimacy.

And obedience.

Abba.
That's the biblical meaning of "Abba," which is a far richer meaning than mere "Daddy."
For this reason, I sort of wince every time I hear someone say, "Abba means Daddy," because while it surely includes the intimacy that people mean by "Daddy," it goes beyond that. Abba means, "Father, I will obey you."
Back to the "Our Father Prayer"
Hopefully you can more easily see why I think, to my first point, that the first word we ought to learn in prayer is "Father." I should probably say the first word we ought to learn is "Abba," though, because that's the richer term.
For other reasons you can read about in my article about spiritual leadership here, you can see why I think we ought to pray the "Our Father Prayer" instead of what is typically called "The Lord's Prayer."
Note: We have made available for download at HIM Publications my translation of the "Our Father Prayer," so you can print it off, frame it, and use it in your home. Download this here.
Learning to pray "Father"
Even when we're not saying the Aramaic word "Abba" in prayer, we must still learn to pray "Father," and when we say it, mean Abba.
Because a disciple of Jesus doesn't just accept his sacrifice and resurrection; a disciple becomes like the teacher. For us, this includes praying the way Jesus prayed.
He prayed Abba as a word of intimacy and obedience.
Abba doesn't have to be reserved for our desperate-need times of prayer, though.
We can use Abba as often as we want. We don't even have to say the word in a technical way to mean what Abba means.
We can mean Abba when we say "Father." We should.
We must first learn to pray this word because unless we're willing to obey, our affections of intimate sonship or daughterhood will soon die out.
Our Father wants more than our affections; he wants our obedience.
Through the eyes of parenting
I love hearing my eighteen-month-old daughter say, "Daddy." It's music to my ears.
But if "Daddy" becomes a throw-away term she uses just because she wants something, then it will become duller in my ears the older she grows.
While "Daddy" is fun, Abba is better.
I want to know that when she says "Dad" or "Daddy" or "Father"—whatever she ends up calling me—that she means Abba.
I think our heavenly Father wants the same thing when we call him "Father," too.
---